ViamTek offers screw type Cold Feed rubber extruders are popular in rubber processing industries for highest output, continuous mixing and accurate extruding quality. We offer cold feed rubber extruder with suitable die head like Straight Head, Cross-Head, Tread Head, Tube Head & Strainer Head its depend on the choice of application. Plain or Vented/Vacuum type cold feed extruder are specially designed with section wise either two or multiple barrels & sleeves depending upon L/D ratio. These barrel & sleeves fitting are replaceable, sleeves are Nitra alloy hardened with wear protected for durability. The screws are critically designed to have gradually reducing pitch and flight depth in the central zone. Screw are Nitra alloy hardened. Mixing of 2/3 different layers of compound flowing on different screw flight paths, facilitates high shear uniform mixing that gives you consistency in the homogeneity of the mixed rubber compounds.
ViamTek offers Cold Feed Rubber Extruder in Plain Barrel & in Vented as well with multiple sizes 45mm, 50mm, 55mm, 65mm, 70mm, 75mm, 90mm, 120mm, 150mm and 200mm.
SALIENT FEATURE
No need to feed warm milled rubber compound required cold rubber compound as normal temperature its saves manpower as well as power consumption.
Screw & barrel sleeves made of EN41B, Nitra alloy hardened and Polished.
Automatic Temperature control units for barrels, screw and die heads.
Specially designed leakage free Feed Roll Assembly for easy maintenance & replaceable.
Electrical control panel with variable speed.
Feeding arrangement with spiral undercut barrel and feed roll arrangement with feed barrels which ensure proper feeding to the screw.
Quick & easy installation and easy to relocate.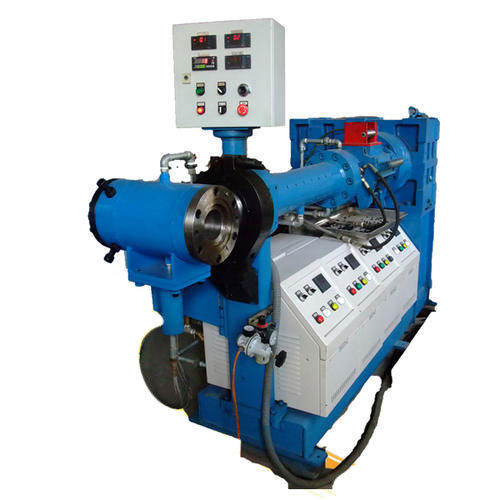 Our Extruder are widely used for
Fuel Hoses
Automotive Profiles
Industrial Hoses / Gas Hoses
Air-conditional foam tubes
Fire Hoses
Window Profile and many more.