Hydraulic Rubber Molding Press
Viamtek offer compression & Vacuum type  molding press with four-pillar type & fame type construction for perfect guiding of moving bolster for better performance. Compression molding presses has compact design, single body, easy operating system. Compression Molding Presses also possess long slide guide with lubrication system for better accuracy which makes it the most suitable for molding of o'ring, oil seals, rubber fiber, rubber bellow, etc
Hydraulic Rubber Molding press Manufactured by ViamTek Machineries Pvt. Ltd., Mumbai, India have wide range of usage. They are used to generate compressive force. We offer flawless products which have been made using premium quality raw materials. This machine offers cutting edge technology and are able to meet the client's satisfaction.
ViamTek can supply Presses in 30 to 5000 Ton capacity, platen size 250mmx250mm to 1500mmx6000, in single or multiple daylights in Electrical/ steam/ Thermic fluid heated versions, single or battery of 2-3-4 presses, with Hand lever operation, Semi-Automatic or Automatic PLC& HMI controlled 'INCH' & "AUTO" cycles with multiple breathing (degassing/ bumping) presses can be up stroking or down stroking as per application requirement.
Types Of Hydraulic Rubber Molding Press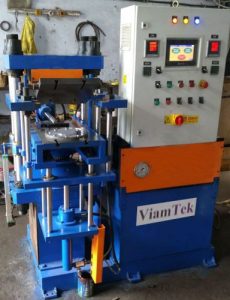 Compression type.
Vacuum type.
C-Frame type.
Precured  thread press.